AYE Conference Information
Download the AYE 2012 flyer.
One thing that makes the AYE conference different is session design. At many conferences, the basic format is one or two presenters talking from the front of the room, to rows full of people seated in chairs, even in tutorials or full-day workshops.
In this conference, we emphasize simulation and experience so that you can gain a more complete understanding of the material.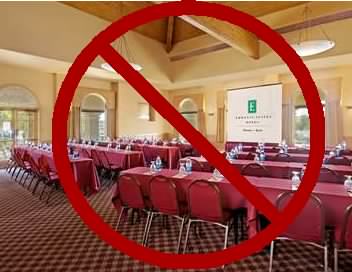 You might find AYE participants working actively in any place, in any style, except sitting in rows watching powerpoint lectures.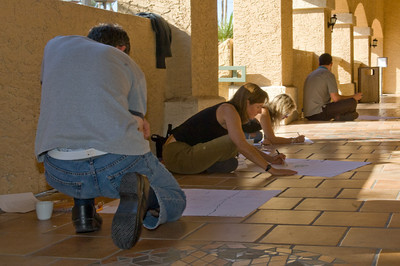 Dates
The conference starts with an optional warm-up tutorial on Sunday, Nov 4, 2012. The full conference starts on Sunday, Nov 4, at 6:30pm with the welcome dinner. The main body of the conference lasts Monday through Wednesday, ending with a closing dinner on Wednesday. On Thursday, there are special extra-tuition workshops, plus consulting.
Location
We will be at the Hotel Parq Central in Albuquerque, NM for the 2012 conference.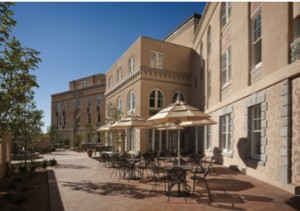 The AYE discounted conference rate is $130/night.  This rate includes a gourmet continental breakfast each morning, free parking, airport shuttling, and wireless internet in the rooms. This discounted rate is available from November 2-10, 2012.
Why we started the conference
The Amplifying Your Effectiveness conference was born in a meeting of successful, yet frustrated consultants. We were frustrated by the way the conferences treated us and their attendees. We couldn't change the room setup–people were supposed to learn sitting down in chairs. We couldn't provide new and innovative ideas–the slides were supposed to be submitted months in advance. We couldn't lead participatory sessions–people were "afraid" of those.
Ha! We didn't think so. We thought that people who wanted to participate in solving their problems, to seeing their human systems in action needed a conference. That's why we started AYE.
AYE is for people who work in technical environments where problem solving is key–environments such as systems development, product development, quality assurance, and information technology. At AYE, you will experience new ways to tackle hard issues–ways that use everyone's creativity–and respect everyone's humanity. We call this approach congruent problem solving, because it stresses self-esteem, communication, interaction, and change at three levels of improved effectiveness–the individual, the team, and the organization as a whole.
We're looking for participants who will participate–ask questions, share their experiences, be part of experiential exercises, and contribute to the session designs and content. By participating, you will discover solutions to some of your toughest problems. Join us in growing more functional teams, more effective organizations, and more powerful people.
Warmup Tutorial
We believe that the simulation and experience approach is effective for learning, so we'll use it in the "AYE Warm-Up" tutorial too. That means that you'll have a chance to participate in the session, determining what happens to a very great extent, and having a lot of fun doing it. We'll introduce the Myers-Briggs Type Indicator (MBTI) and several of the tools, techniques and concepts of Virginia Satir, possibly including items from this menu:
Triads
Self-esteem
Communication Stances
Change Model
Interaction Model
Coverage will be determined in part by surveying the presenters to determine what they feel would be helpful to you, and in part by your feedback.This tutorial session will be held all day Sunday before the conference, with an extra tuition charge of $500 for participants. Please register with Susie Brame if you wish to reserve a place in this tutorial. If you want some particular topics send us an email. Mail Don at don@donaldegray.com.
Program and Schedule for 2012
The detailed program and schedule for 2012 will be over here.
Pricing
You can pay a deposit to reserve a space now, or pay in full now. All the details are on the Registration page.
Family and Friends
You might like to invite your significant other, some family members or friends to come to RTP with you. Although your guests won't be participating in conference sessions, they might like to join us for meals and breaks. We've set up an optional plan to handle this easily. We call it the "Family and Friends Plan". Here's how it works:
If your guests are totally non-involved, they of course pay nothing.
If your guests wish to partake of our meals and breaks, the fee is $200.00 per guest. This fee applies for adults and children over the age of five. Children under the age of five are free. This fee entitles your guest to attend our opening dinner on Sunday evening, the closing dinner on Wednesday, as well as three lunches and all our breaks. A full breakfast buffet is included in your hotel room rate. There are no partial fees for this, just one flat fee for these meals and breaks.
We have compiled a list of Child Care centers near the hotel. Please contact Susie Brame for more information. The list was accurate when we compiled it…
To register your guests for the Family and Friends Plan, just let Susie Brame know when you register, or complete this part of the electronic registration form on our Registration page.
Request more information
We have a low-volume mailing list for conference updates and announcements. Sign up here. We don't share our mailing list with others. If you have a question about the conference, email Susie Brame, or call her at (503) 799-5132.
Register for the conference
To register, please go to our registration page.